Changing
the game
for
nature
UK envoy visits to learn conservation in BD
Wed August 30th at 12:08pm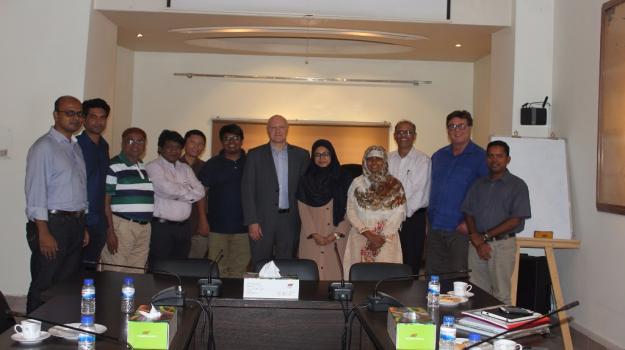 Mr. Derek Griffiths, the Deputy Head of South Asia, Foreign & Commonwealth Office (FCO) of the UK, visited WildTeam and USAID's Bagh Activity (a project implemented by WildTeam) on 28 August to learn more about wildlife conservation and the major challenges to conversation efforts in Bangladesh.
During the visit, the British envoy held a view-exchange meeting with high officials of USAID's Bagh Activity and WildTeam, the implementer of the Project, to get a better understanding of some of the issues around wildlife conservation and the challenges facing the conservation programs in Bangladesh. Mr. Griffiths is currently visiting Bangladesh to explore the scope for cooperation in areas of strategic importance to the UK through discussions with different government and non-government organizations. "One of the things our Foreign Secretary is particularly keen on is wildlife. And he feels he can make some worldwide changes to this trying to get the UK government, and also the UK population and media more interested in what the UK can do to help preserve some of the endangered species around the world," the British envoy said in his introductory speech at the meeting held at WildTeam head office in Malibagh.
Professor Dr. Md. Anwarul Islam, CEO of WildTeam; Mr. Gary F. Collins, Chief of Party of USAID's Bagh Activity; Dr. Gawsia Wahidunnessa Chowdhury, board member of WildTeam; Mr. Md. Abdul Aziz, Ph.D., Associate Professor of Department of Zoology of Jahangirnagar University; Mr. Shajedur Rahman, Head of Finance of WildTeam and Mr. Iqbal Hussain, Program and Partnership Management Specialist of Bagh, attended the meeting among others. The WildTeam CEO and Bagh Chief of Party briefed the British envoy about the work being carried out by WildTeam and Bagh. Mr. Iqbal Hussain gave an overview of the current status of tiger conversation in Bangladesh in the context of a rising trend in illegal wildlife trade globally. The British envoy was accompanied by Ms. Farhana Ahsan, a representative from the British High Commission in Dhaka.