Changing
the game
for
nature
Tree plantation campaign and fair in Khulna
Wed August 2nd at 12:56pm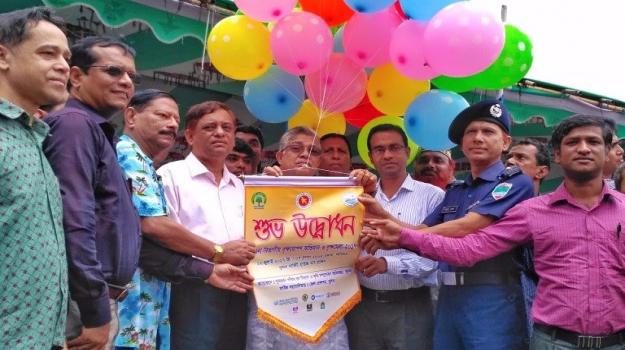 USAID's Bagh Activity (a project implemented by WildTeam) is extending support to the Sundarbans West Forest Division, Department of Agriculture Extension (DAE) and Khulna District Administration in organizing the 'Divisional Tree Plantation Campaign and Tree Fair-2017' that kicked off at Khulna Circuit House Ground on 22 July 2017.
The objective of the event is to create mass awareness about tree plantation. State Minister for Fisheries and Livestock Mr. Narayan Chandra inaugurated the fair as the Chief Guest. A total of 52 stalls have been set up at the fair to showcase different species of trees. The visitors will be able to buy plants at the fair which will remain open from 09.00am to 08.00pm every day until 5 August. Addressing the event, the Chief Guest urged all to save the environment and create a livable planet for the next generation by adapting to climate change through massive tree plantation.
Khulna Divisional Commissioner Mr. Md. Abdus Samad, Lawmaker from Khulna 2 constituency Mr. Alhaz Mijanur Rahaman Mijan, Chairman of Khulna District Council Mr. Sheikh Harun-Ur-Rashid, Deputy Commissioner of Khulna Metropolitan Police Mr. Fazlur Rahman, Police Super of Khulna Range Mr. Md. Abu Hena Wahedul Karim, Conservator of Forests, Khulna Circle and Project Director of USAID's Bagh Activity Mr. Md. Amir Hosain Chowdhury, Deputy Director of Department of Agriculture Extension (DAE) Mr. Md. Abdul Latif, Vice President of Nursury Owners Association Mr. Md. Abul Kalam Azad, addressed the function among others. Deputy Commissioner of Khulna Mr. Amin-Ul-Ahsan Chaired the inauguration event while Divisional Forest Officer Mr. Md. Bashir Al Mamun delivered the welcome speech.