Changing
the game
for
nature
Bagh holds quarterly meeting of TigerScouts
Tue July 4th at 10:57am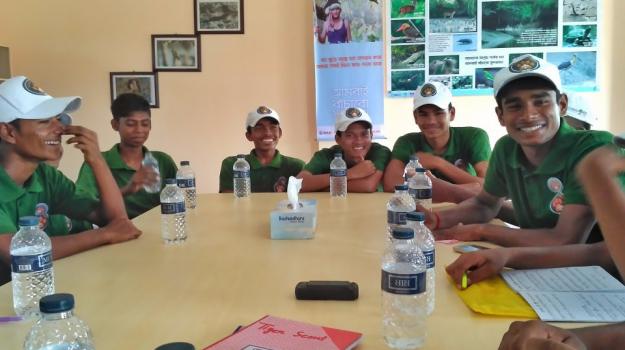 USAID's Bagh Activity (a project implemented by WildTeam) organized the quarterly meetings of TigerScout, a youth-led volunteer group, in three ranges of the Sundarbans to reflect on the activities of the future conservation leaders in the last quarter and set the action plan for the next quarter.
The quarterly meetings were held at the Sundarbans Education Centers (SECs) in Satkhira, Chandpai and Khulna range on 13 April, 15 May and 21 June respectively. The meeting will be organized in Sarankhola range next month. The overarching objectives of the quarterly meetings were to help enhance their conservation knowledge and capacity to work as volunteers and further strengthen the collaboration and coordination among the TigerScouts. The headmasters of relevant schools, Bagh's Community Conservation Assistant Coordinator, Program Officer, SEC committee members and representatives from VTRTs joined the TigerScouts at the quarterly meetings. The meetings praised different activities carried out by the TigerScouts and encouraged them to continue their conservation initiatives.
At the meetings, the TigerScouts discussed their activities in last quarter, success stories, the difficulties they faced and the ways to overcome these issues. Each of the sessions was very interactive where the TigerScouts shared all the outstanding activities they carried out last quarter, such as saving birds, stopping deer meat consumption in their families, preventing neighbors from collecting woods from Sundarbans, organizing quiz competition on tiger and Sundarbans and environmental day celebration in schools. There was a session to brainstorm ideas for different activities for next quarter.