Changing
the game
for
nature
Workshop to finalize VTRT Management Guidelines
Thu June 22nd at 09:52am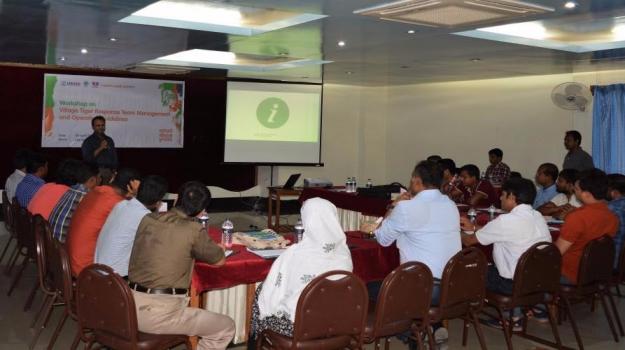 USAID's Bagh Activity (a project implemented by WildTeam) organized a daylong workshop on 30 April 2017 to finalize the Management and Operational Guidelines for the Village Tiger Response Team (VTRT) and discuss other management and operational issues of the community-led volunteer group.
A draft of the VTRT management and operation guideline has already been prepared outlining the operational and management structure, vision, mission, goal and values of the community volunteer group. A total of 16 participants comprising Forest Department and Bagh officials attended the workshop held at CSS Ava Center in Khulna. Bagh's Regional Manager Mr. Malay Kumar Sarkar, Community Conservation Coordinator Mr. Md. Mahbubul Alam and Community Conservation Assistant Coordinator Mr. Zubair Hussni Fahad facilitated the workshop.
Divided into two groups, one led by Divisional Forest Officer Mr. Md. Modinul Ahsan and another by Bagh's Conservation Support Coordinator Ms. Rezvin Akter, the participants provided feedback and suggestions to develop an effective guideline for the VTRTs. The VTRT was introduced in the Bangladesh Sundarbans in 2007 to safeguard the critically endangered tiger and other wildlife in addition to promoting conservation practices among the communities. Currently, 49 VTRTs comprising 340 members are working to reduce retribution killing of tiger, reduce livestock depredation by tiger, and develop community capacity to deliver more efficient Tiger-Human Conflict management, forest working safety and sustainable use of forest resources. For its outstanding contributions to protecting critically endangered Bengal tigers in the Sundarbans, the VTRT was recently awarded the 'Bangabandhu Award for Wildlife Conservation 2017'. Honorable Prime Minister Sheikh Hasina handed over the award at a function on 4 June 2017.