Changing
the game
for
nature
Three more Sundarbans Education Centers
Wed June 14th at 11:00am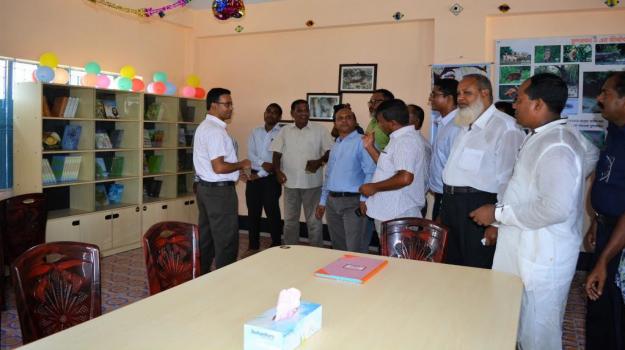 USAID's Bagh Activity (a project implemented by WildTeam) inaugurated Sundarbans Education Centers (SEC) in three schools in the Sundarbans periphery to create a knowledge hub for future conservation leaders to maintain and promote positive behavior towards wildlife conservation.
Bagh equipped the educational institutions to serve as Education Centers and link with its conservation initiatives for long-term collaboration. The first SEC was launched in Burirdabur SESDP Model High School at Laudobe in Dacope upazila of Khulna on 23 January 2017. The new SECs were established in Charduani High School, Joymoni Secondary School and Sundarbans High School in Sarankhola, Chandpai and Satkhira range respectively. Conservator of Forests, Khulna Circle and Project Director of USAID's Bagh Activity Mr. Md. Amir Hosain Chowdhury inaugurated the SEC in Chandpai range on 27 April, Divisional Forest Officer (DFO), East Division, Mr. Sayedul Islam inaugurated the SEC in Sarankhola on 23 May and DFO West Division Md. Said Ali opened the SEC in Satkhira range on 24 May. In addition to the Forest Department high officials, respective Upazila Nirbahi Officers (UNOs), Union Parishad Chairmen, Bagh's Regional Manager, CAT Coordinator & Assistant Coordinator, Chairman of CMC, School Managing Committee Chairmen, TigerScouts, VTRT members and Baghbandhus attended the inauguration events.
The Sundarbans Education Center will enable local students and youth to access conservation information and knowledge through dedicated libraries where books, articles, and relevant publications will be available. The education centers will also be a connecting point for teachers, students, TigerScouts from local schools, Village Tiger Response Teams, and BaghBandhus to plan and design community-based conservation education, awareness, and outreach activities.