Changing
the game
for
nature
ToT for staff on women mainstreaming in VTRTs
Wed May 24th at 11:31am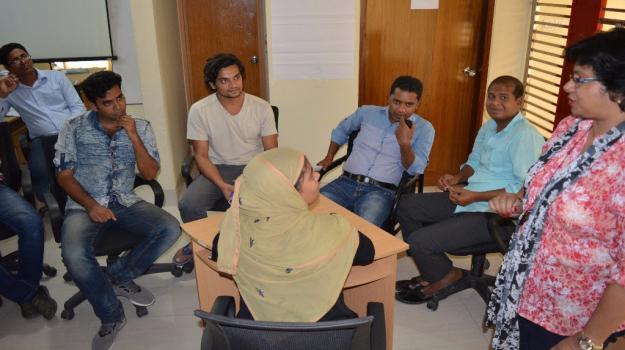 USAID's Bagh Activity (a project implemented by WildTeam) organized a daylong Training of Trainers (ToT) on 'Women Mainstreaming and Gender Sensitivity in VTRT' in Khulna on 18 April for selective staff to strengthen its gender mainstreaming efforts in the Sundarbans periphery.
A total of 15 selected participants participated in the ToT session held at the conference room of Khulna Regional Office. Staff members selected for the ToT will organize eight one-day training sessions for the Village Tiger Response Team (VTRT) members in all four ranges of the Sundarbans in August 2017. The objective is to sensitize the VTRT members on the roles of gender in their teams and help them create a gender sensitive environment for the women volunteers within the community-led teams. Malay K. Sarker, Khulna Regional Manager of USAID's Bagh Activity, opened the session as the Chief Guest. Bagh's Gender Specialist Ms. N.R. Musfika Laiju facilitated the ToT with support from the Institutional Capacity and Training (ICT) team.
The training sessions included presentations, discussions and interactive sessions on various aspects of the roles of gender in community conservation. The participants at the ToT also adopted an action plan to guide Bagh's efforts to mainstream gender in community-led conservation activities. A total of 14 women were included in the community-led VTRTs for the first time in September 2016. While Bagh continues to include women in all the VTRTs, the ToT was crucial to strengthen Bagh's capacity for creating an enabling environment for the women volunteers in VTRTs. Formed in 2008, VTRTs are a community-based volunteer group of around 350 male volunteers in 49 village teams.