Changing
the game
for
nature
VTRTs intensify patrolling in Satkhira
Wed August 2nd at 12:54pm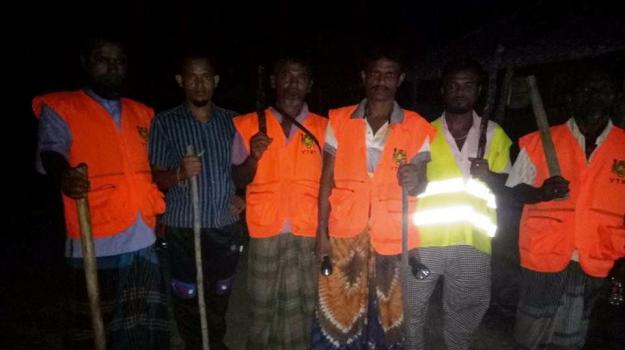 The Village Tiger Response Teams (VTRTs) have intensified their patrolling in Shyamnagar upazila of Satkhira to handle any potential human-tiger conflict (HTC) incident after a tiger strayed into Tengrakhali village of the area last week (13 July).
The tiger strayed into the house of a VTRT member named Hakim Fakir at around midnight after crossing the tiny Mirgang River. Mr. Hakim said the tiger tried to snatch his goat. He tried to seek help from his neighbors but he failed to attract their attention as his house is isolated from rest of the neighborhood and the tiger was roaming around the house for almost three hours. But the tiger went back to the forest on its own before dawn without causing any harm.
The VTRTs promptly responded to the situation after the news spread in the locality. The villagers confined themselves indoors in fear that the tiger might stray into the village again. With guidance from Forest Department, Bagh & WildTeam officials, the VTRTs took immediate measures to relieve the panic situation and intensified patrolling in the area. Local people, VTRTs and FD staffs are now carrying out joint patrolling in the area at night. A boat of forest tiger response team (FTRT) is patrolling in the river line to support the FD and VTRTs. The VTRTs are also holding awareness meetings with villagers and disseminating safety tips for the villagers through megaphones. Conflict usually arises when tigers and humans share common, limited resources. HTC has a direct impact on both tigers and humans as it results in the deaths and/or injury of tigers, humans and livestock. It also gives rise to many misconceptions about our inability to coexist with tigers.