Changing
the game
for
nature
VTRT wins Bangabandhu Award 2017
Mon June 12th at 09:53am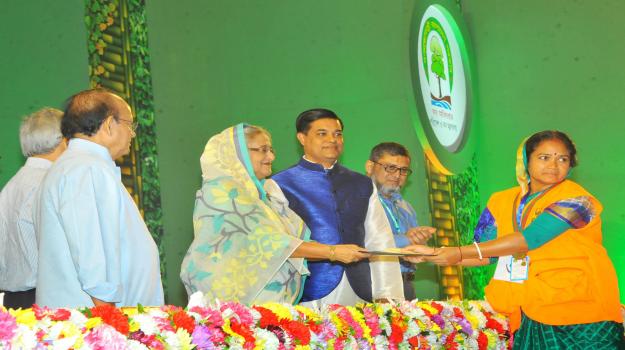 The Village Tiger Response Team (VTRT), a community volunteer group created by WildTeam and supported by USAID's Bagh Activity (a project implemented by WildTeam), has been awarded the 'Bangabandhu Award for Wildlife Conservation 2017' for its outstanding contributions to protecting critically endangered Bengal tigers in the Sundarbans.
Honorable Prime Minister Sheikh Hasina handed over the award at a function marking the inauguration of the World Environment Day, National Tree Plantation Campaign 2017 and Environment Fair & Tree Fair 2017 at Bangabandhu International Conference Centre in Dhaka on 4 June. The VTRT was introduced in the Sundarbans in 2007 by WildTeam, the key implementer of USAID's Bagh Activity, to promote conservation practices among the communities living around the Sundarbans.
Talking about the award, Bagh Chief of Party (COP) Mr. Gary F Collins said, "The VTRTs have been the pinnacle of our efforts to empower the communities to take charge of their own actions and make informed decisions to conserve tigers and the Sundarbans. Over the years, the VTRT members have changed the ways we see community conservation and the award will help build a stronger institutional framework for this volunteer group."
Currently, a total of 49 VTRTs comprising 340 members are working in the world's largest mangrove forest to check retribution killing of tigers, reduce livestock depredation by tigers, and increase community capacity to deliver more efficient tiger-human conflict management, forest working safety and sustainable use of forest resources. "We believe people are the solution, and the VTRT members have proved that the community is the best game-changer for nature. The award makes us all proud of VTRTs and the extraordinary efforts they have been putting together to secure a better future for tigers in the Sundarbans," WildTeam Chief Executive Prof Dr. Md Anwarul Islam told local media.