Changing
the game
for
nature
VTRT rescue rare barking deer in Sundarbans
Tue August 29th at 09:49am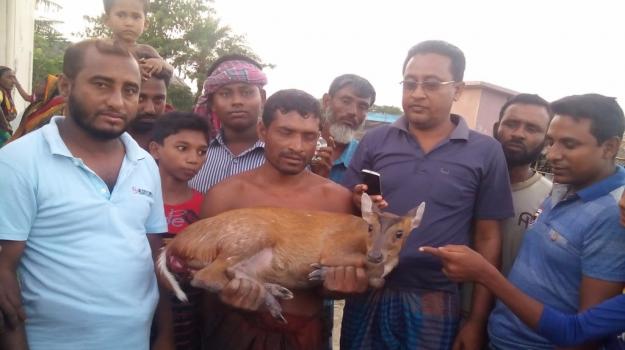 The Village Tiger Response Team (VTRT) members rescued a rare barking deer from Sutarkhali village in Dacope upazila of Khulna on July 8 and successfully released the animal to the forest with support from Forest Department officials.
The deer, weighing approximately 17 kilograms, strayed into the village at around 5:00 pm and was subsequently attacked by a dog. Hearing the news from local villagers, a group of VTRT members rushed to the spot and rescued and gave first-aid to the injured deer. Being informed by the VTRT members, Officer-in-Charge of Sharbotkhali Forest Station, Mr. Md. Mesbah Uddin, and Station Officer of Sutarkhali Forest Station, Mr. Md. Safiur Rahman, visited the deer and gave the necessary directions to the volunteers to handle the situation smoothly. The FD officials later took the deer to a nearby village and released it into the forest at around 10:00 pm.
Although there is no human habitat inside the Sundarbans Reserve Forests (SRF), around two million people live alongside the SRF in 76 bordering villages. Wildlife often strays into the nearby villages as the wildlife and humans share common and limited resources, causing a direct impact on humans, wildlife and livestock. Over the years, USAID's Bagh Activity (a project implemented by WildTeam) has established a comprehensive system to effectively manage these types of conflict situations and engage the communities in addressing the challenge of human-wildlife conflict. From January 2016 to August 2017, the VTRTs rescued and set free 174 wild animals into the forest.