Changing
the game
for
nature
Training for sustainable honey production
Wed May 24th at 11:33am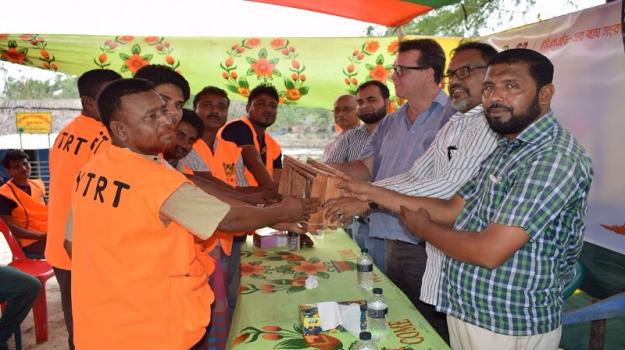 USAID's Bagh Activity (a project implemented by WildTeam) arranged two events titled 'Training on Dearth Management and Enterprise Development in Beekeeping' and 'Demonstration and Field Day on Beekeeping' on May 16-17 in Khulna to enhance the capacity of Village Tiger Response Team (VTRT) members in sustainable honey production.
A total of 25 VTRT members participated in the training in Munshiganj while 60 VTRT members attended the field day event in Satkhira. Local government representatives, Upazila Cooperative Officer and Sub- Assistant Agriculture Officer of Shyamnagar Upazilla attended the training held on 16 May. Facilitated by Bagh's Honey Consultant Mr. Abdul Alim Bhuiyan, the training focused on different aspects of beekeeping in the dearth period and enterprise development models to help the VTRT members take on a more sustainable approach in honey production.
The demonstration and field day event was held at Kadomtola on 17​ May. Bagh officials and representatives from local government attended the event. Bagh's Chief of Party (COP) Mr. Gary F. Collins shared inspirational stories with the VTRT members to motivate them to get more involved in the community conservation activities and livelihoods interventions supported by Bagh. The Honey Consultant demonstrated some beekeeping best practices during the event. The Bagh COP distributed beekeeping frames and comb foundation sheets (a beekeeping tool) to the representatives of VTRTs at the end of the field day event. Mr. Malay Sarker, Regional Manager; Mr. Mohammad Ehsanul Haque, Livelihoods Manager; Mr. Morshed Siddiqui, Livelihoods Specialist; Mr. Sarowar Jahan, Training Officer; and Mr. Zahid Hassan, ICT Officer of Bagh were also present on the occasion.