Changing
the game
for
nature
NKC arranges WildTrip to Padma Bridge Museum
Wed November 15th at 10:32am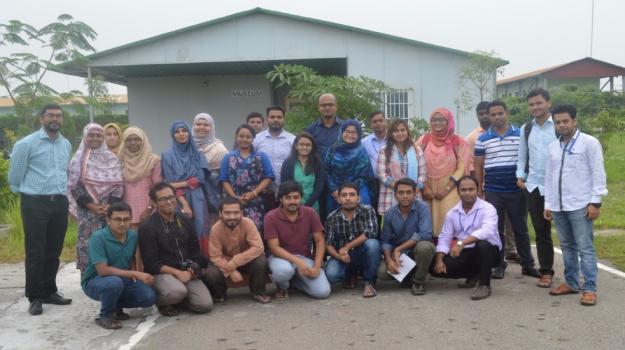 The Noazesh Knowledge Centre (NKC) in collaboration with USAID's Bagh Activity (a project implemented by WildTeam) arranged a daylong trip to the specimen museum on the outskirts of the capital on 30 October to help the participants expand their knowledge of natural history and gain a better understanding of the wildlife habitats in Bangladesh.
The Padma Bridge Museum, maintained by the Zoology Department of Dhaka University, is an initiative that began in 2016. The museum so far collected a total of 791 species, including mammals (41), birds (78), reptiles (93), amphibians (38), fishes (258), mollusks (133), crustaceans (60), butterfly and moth (158), insects (252), and invertebrates (40). The majority of specimens are preserved in formalin, with a number of mounted skeletons and cleared and stained samples that allow skeletal structures to be visible. This offers an up-close look at many aquatic and terrestrial species, such as Ganges River Dolphin, Leopard Cat, Oriental Pratincole, River Terrapin, Yellow Sea Snake, etc. The museum also collects other items such as fishing gears, crafts, bird nests, and eggs.
Following an introductory presentation by the curator of the museum, Dr. Ananda Kumar Das, and Research Associate cum Guide Lecturer, Mr. Samiul Mohsanin, the participants were given the opportunity to learn more about the process through which the museum was set up, and the procedures that go into collecting and preserving specimens for a natural history museum. The participants comprised of students, conservation professionals, and Bagh staff. Dr. Gawsia Wahidunnessa Chowdhury, Associate Professor of Zoology Department of the University of Dhaka and also a Board Member of WildTeam, was the key resource person during the trip. The tour gave the participants a rare opportunity to get a glimpse of Bangladesh's rich but dwindling wildlife species. Bagh will be working with WildTeam to expand and strengthen the Noazesh Knowledge Centre (NKC) as a Wild Learning Centre (WLC) that will inspire, engage and empower civil society and conservation professionals.