Changing
the game
for
nature
Bagh NKC event to share conservation experience
Wed August 2nd at 12:58pm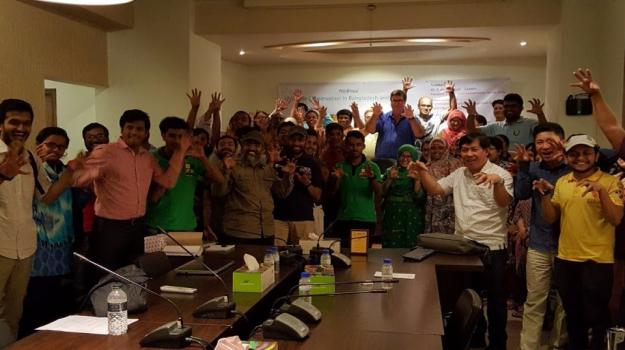 USAID's Bagh Activity (a project implemented by WildTeam) and Noazesh Knowledge Centre (NKC) of WildTeam organized an event titled "WildHour: Wildlife Conservation in Bangladesh and India" on 25 July to facilitate the exchange of conservation experiences of the two countries.
Mr. R Mohammed Saleem, President of Environment Conservation Group, India, and Mr. Iqbal Hussain, Program and Partnership Management Specialist of USAID's Bagh Activity, highlighted the initiatives to conserve endangered species in their respective countries and the role of the young generation in protecting them. The overreaching goal of the knowledge sharing event held at Cosmos Conference Centre, Malibagh was to encourage the conservation enthusiasts, especially the youths to exchange views and insights through interactive sessions and discussions. The NKC was established jointly by WildTeam and Zoological Society of London in 2011 with an aim to conserve the biological diversity of Bangladesh through disseminating knowledge.
Mr. Renerio Acosta, Senior Environment and Climate Change Advisor of USAID Bangladesh and Agreement Officer Representative of Bagh; Mr. Gary F Collins, Chief of Party of USAID's Bagh Activity, were present at the event moderated by Dr. MA Aziz, Associate Professor of the Zoology Department of Jahangirnagar University and a Board Member WildTeam. Speaking at the event, Mr. Acosta expressed his great interest to learn about conservation works of Bangladesh, India and nearby countries. He said he had traveled most parts of Bangladesh to learn about conservation efforts of Bangladesh and he encouraged the audience to involve more in wildlife conservation to make the world a better place. Mr. Gary F. Collins congratulated Indian team for their great initiatives and also urged everyone to do their bits from their own positions and adopt eco-friendly behavior in their daily lives.