Changing
the game
for
nature
Bagh celebrates Global Tiger Day 2017
Sat August 19th at 01:55pm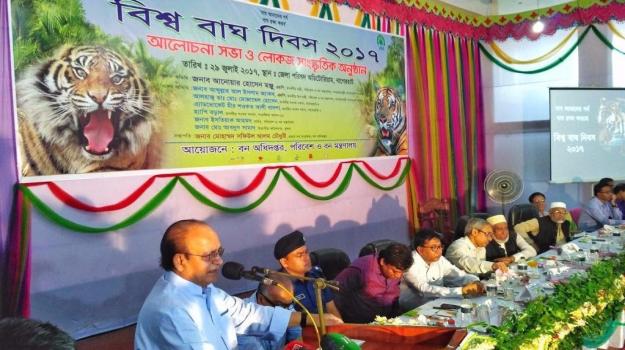 USAID's Bagh Activity (a project implemented by WildTeam) organized colorful rallies, discussion events and cultural programs in all four ranges of the Sundarbans periphery on 29 and 30 July to raise awareness about tiger conservation marking the Global Tiger Day 2017.
Bagh partnered with Forest Department and different non-government organizations to celebrate the day through elaborated programs with the theme 'Tiger is our pride, we will save Tiger'. The main national event on the occasion was held in Bagerhat. A colorful rally was brought out from Central Shaheed Minar in the morning to commence the observance of the Global Tiger Day. Later, a discussion was held at the District Council Auditorium where Honorable Environment and Forest Minister Mr. Anwar Hossain Manju spoke as the Chief Guest. Mr. Mohammed Shafiul Alam Chowdhury, Chief Conservator of Forests chaired the event. Honorable MOEF Secretary Mr. Istiaque Ahmad, Conservator of Forests, Khulna Circle and Project Director of Bagh Mr. Md. Amir Hosain Chowdhury; Mr. Md. Jahidul Kabir, Conservator of Forests, Wildlife Management & Nature Conservation Division, Khulna; and Bagh Chief of Party (COP) Mr. Gary F. Collins were also present, among others, at the event. Mr. M. A. Aziz, Associate Professor of Jahangirnagar University, presented the keynote at the discussion. A cultural program was organized after the discussion featuring a 'Pot song' performed by a BaghBandhu and her group.
In addition to the national event, colorful rallies, quiz shows and discussion sessions were organized at Patharghata in Barguna, Dacope in Khulna, Shyamnagar in Satkhira and at Sobedkhan High School in Chandpai range to mark the day. The Sundarbans Education Centers established by Bagh were important parts of the Global Tiger Day observance at the local level. Students, local people, VTRTs, TigerScouts, BaghBondhus (tiger ambassadors) and representatives of local administration and Forest Department attended the events.