Changing
the game
for
nature
Bagh arranges training for BaghBandhus
Thu June 1st at 11:58am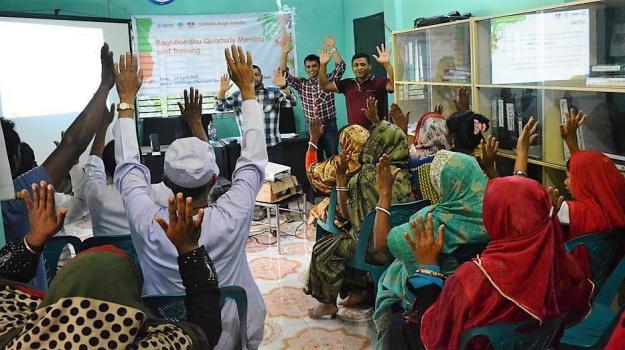 USAID's Bagh Activity (a project implemented by WildTeam) organized the quarterly meeting of BaghBandhus (tiger ambassadors) in all four ranges of the Sundarbans periphery to help them reflect on the activities in the first quarter of 2017 and finalize the plan for the next quarter to support tiger conservation.
A total of 53 BaghBandhus from 22 selected wards attended the daylong event in their respective ranges from 20-26 April 2017. The quarterly meetings focused on enhancing the capacity of BaghBandhus to effectively mobilize the village forum meetings and other social activities. Each of the quarterly meetings was designed to improve BaghBandhus' knowledge on priority threats to tigers, refresh their skills on human-tiger conflict management and forum management, review the activities in Q1 2017 and finalize the plan for Q2 2017, strengthen the coordination among the BaghBandhus and discuss their feedback on their activities in general and the scope for improvement.
The Assistant Conservators of Forests (ACF) from the Forest Department attended the quarterly meeting as the Chief Guests in their respective ranges. They were also the key instructors for the training sessions and discussed the Wildlife Act, Compensation Policy and the importance of tiger conservation. Bagh conducted pre and post training evaluations to assess the knowledge of the participants before and after the training. BaghBandhus are well-recognized community leaders in the Sundarbans periphery having a direct or indirect influence on their communities. They host regular monthly village forum meetings to improve public engagement in community-led conservation activities supported by Bagh.