Changing
the game
for
nature
Annual honey collection season begins
Wed May 24th at 11:29am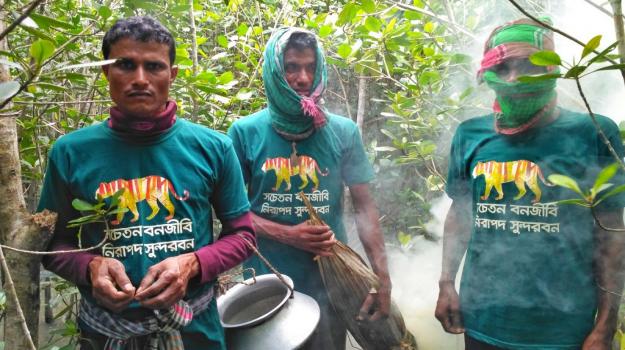 USAID's Bagh Activity (a project implemented by WildTeam) organized the inauguration ceremony of the annual honey collection season in collaboration with Forest Department and Bangladesh Environment Development Society at Burigoalini in Satkhira on 1 April to celebrate the start of the age-old tradition of honey collection.
The objective of the event was to increase awareness among st the honey collectors about forest conservation, sustainable methods of honey collection, and to make them commit to being respectful to relevant wildlife and forest laws. The ceremony began with a discussion session and ended with a field demonstration of honey collection inside the Sundarbans.
Former Environment and Forests Secretary Mr. Mihir Kanti Majumder attended the event as the Chief Guest. He formally opened the honey collection by giving pass-permits to the honey collectors. Assistant Conservator of Forests of Satkhira range delivered the welcome speech at the event. Former Chief Conservator of Forests; Conservator of Forests of Khulna Circle; Divisional Forest Officer of Sundarbans West Division, Officer-in-Charge of Shyamnagar Police Station; Chairmen of Shyamnagar upazila and Gabura Union Parishad and Bagh's Community Conservation Action Coordinator attended the inauguration ceremony among others. The honey collectors were provided with first aid kits at the event.