Changing
the game
for
nature
317 VTRT members get training
Wed September 13th at 02:32pm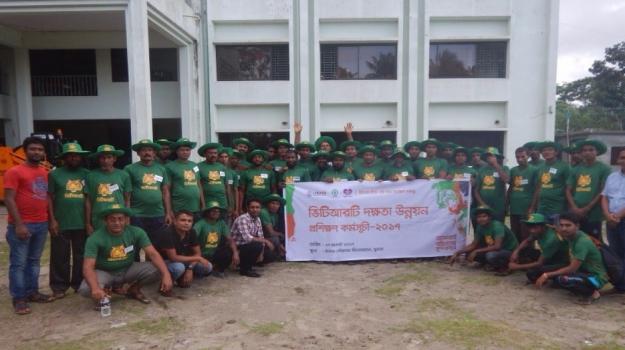 USAID's Bagh Activity (a project implemented by WildTeam) organized capacity development training for the Village Tiger Response Team (VTRT) members in all four ranges of the Sundarbans from 27 to 30 August 2017. The training was a part of Bagh's continued efforts to elevate the skills and capacity of VTRTs to minimize human-wildlife conflicts and motivate their communities to support tiger conservation.
A total of 317 VTRT members participated in the training program. VTRTs in each range were divided into two groups for the training sessions held in different locations of four Sundarbans ranges. The training was held at Chandpai range on 28-29 August for 67 VTRT members, at Khulna range on 27-30 August for 108 VTRT members, at Sarankhola Range on 27 August for 68 members and at Satkhira Range on 28 August for 74 VTRT members. The objectives of the training were to increase knowledge on VTRT roles and responsibility, discuss the VTRT management and operation guidelines, introduce the new VTRT members and enhance the logistics management capacity of the community volunteers. The training covered a wide range of topics including the roles and responsibilities of VTRTs, VTRT management and operation guidelines, membership criteria and different aspects of logistics management for community conservation activities. Representatives from Forest Department and Bagh officials facilitated the training.
The VTRTs, popularly known as TigerTeam, is a community-based network of volunteers who respond promptly to stray tiger situations and human-wildlife conflicts in the Sundarbans periphery. Formed in 2007, VTRTs have become the largest network of volunteers for wildlife conservation in Bangladesh with a total of 49 teams comprising around 340 volunteers.